Facilities provided by CAPS
The Center for Advanced Power Systems (CAPS) has has gained world renown in the field power engineering research. As of 2021, CAPS has expanded it's research facilities with a state-of-the-art high voltage lab. To see more of what CAPS has to offer, see the link below.
Click here for more details on the CAPS facilities.
---
The High-field Laboratory
 Climate chamber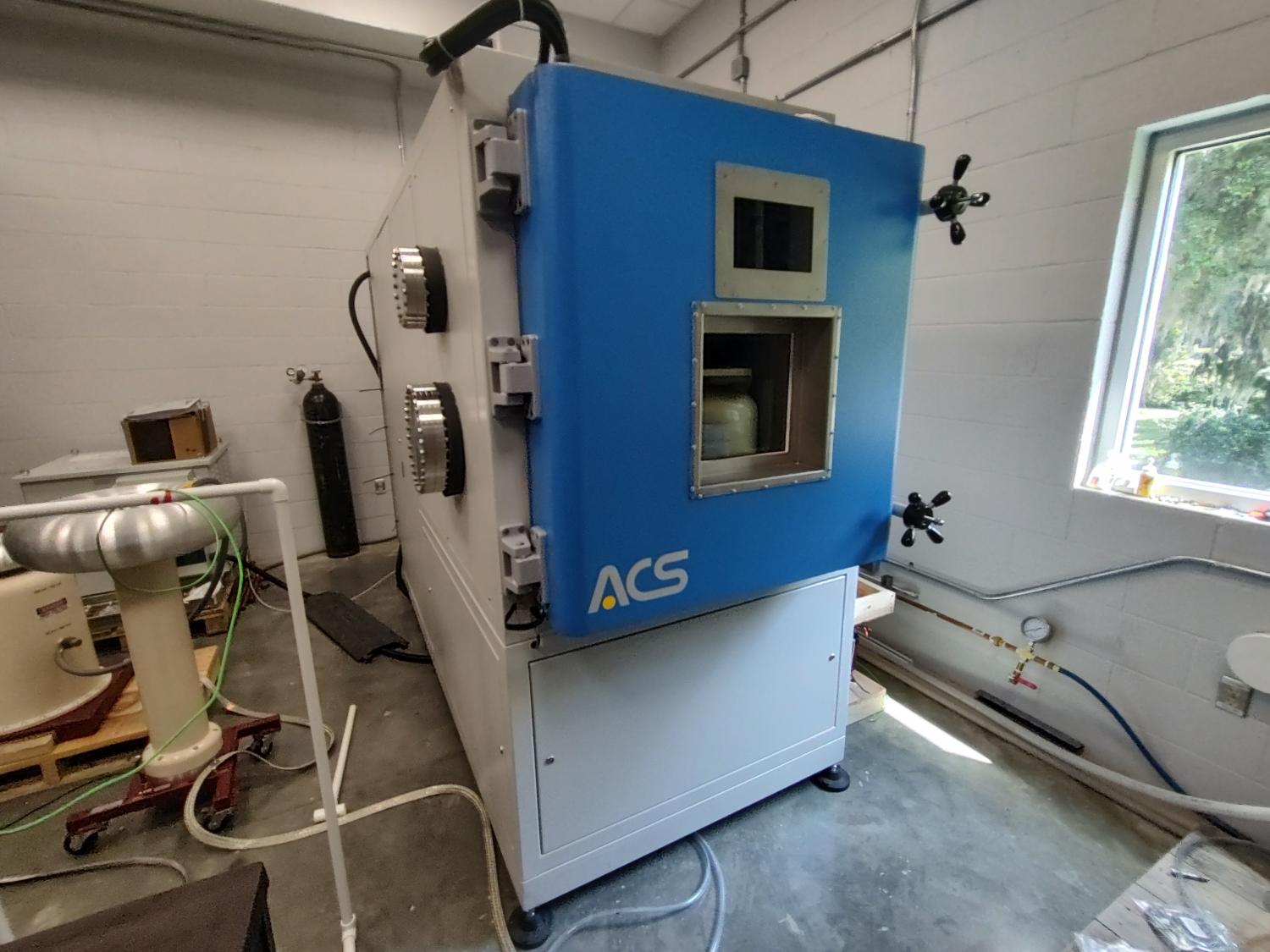 A chamber endowed with variable pressure, humidity, broad range of temperature and high voltage (up to 50 kV). This can be used to carry out accelerated life tests and partial discharge measurements of insulating materials and systems.
Internal dimensions: 800x800x850 (WxDxH) mm
Temperature range: [-70°C; +100°C] (from ambient pressure to 300mbar)
Relative Humidity range: from 20% to 95% within the temperature range [+20°C; +80°C]
Pressure Range: from ambient pressure to 10 mbar
Temperature Fluctuation: ±1°C
Relative Humidity Fluctuation: ±3%...±5%
Pressure Fluctuation: ±3% on required value and in any case not less than ±1 mbar
heating: 1,6°C/min from -70°C to +100°C
cooling: 1,6°C/min from +100°C to -70°C
Pressure fall down time to 10 mbar: 13 min from ambient pressure to 10 mbar
Useful capacity: 544 lt
Hybrid Power Supply
More details to come.
Anywaveform power supply
This power supply is constituted by a function generator and a power amplifier, which allows any type of HV voltage waveform to be obtained from DC to high frequency and fast rise times (microsecond range). It can be sued to test insulation systems and electrical/electronics equipment with real waveforms as those that can be found in ships, aircrafts, renewables generation and industrial assets.
Model: AMPS-30B20
Output Voltage [kVdc]: -30 to +30 kV
Output Current: ±20 mAmax or ±40 mApk 1ms
Rated Power Output [W]: 600W
Slew Rate [V/μs]: 800 V/µs
Full Scale Frequency Response: DC to 5 kHz
Small Bandwidth Frequency Response: DC to 20 kHz
Innovative Partial Discharge (PD) Detector
This device is custom manufactured for the purpose of measuring automatically or by expert-based access Partial Discharge in any electrical system, under AC, DC and power electronics waveforms. The system can perform automatic signal acquisition and its innovative analytics are able to automatically extract PD from noise and identify the source of defect generating PD (which is associated with PD harmfulness and related condition maintenance action).
Besides fully automatic use, it can be also operated by experts through the expert mode option.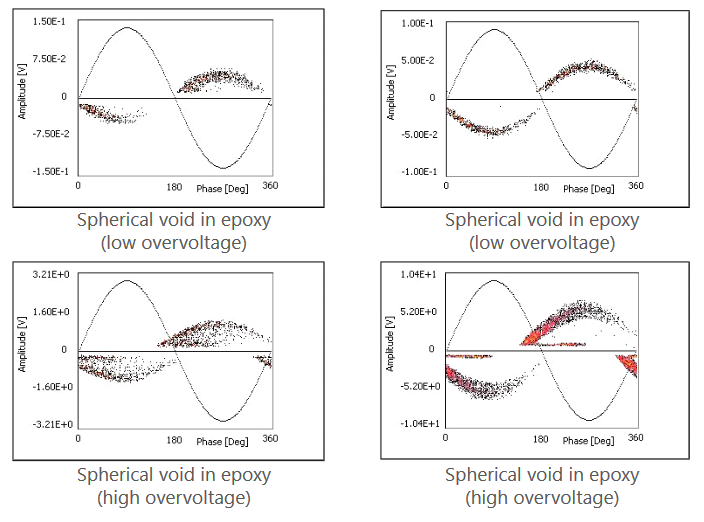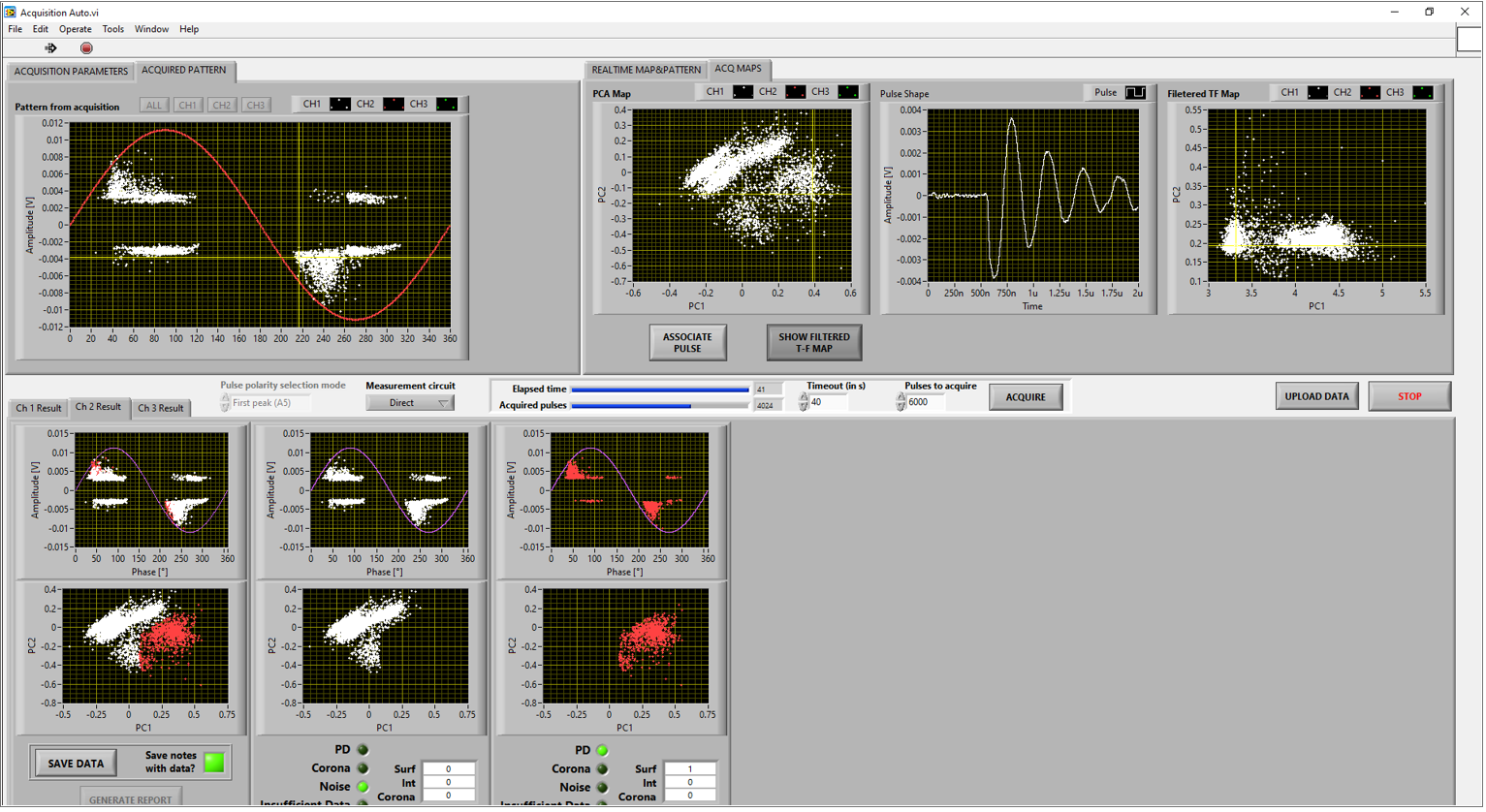 Above is a list of recognized patterns indicating internal PD, and a screenshot of the software collecting PD data and attributing it as surface PD.
Space Charge Detection 
The pulsed electroacoustic (PEA) cell is custom made for the purpose of measuring Space Charge under DC voltage. Space charge can be  a primary cause of electrical insulation premature failure under DC. The cell can operate at voltage up to 50 kV and 90 °C, using flat specimens. It provides the space charge patterns over hours-long measurements, the internal field profile, the charge trap distribution.
Range of testing temperatures – -30°C to +90°C
Specimen thickness – 0.25-1 mm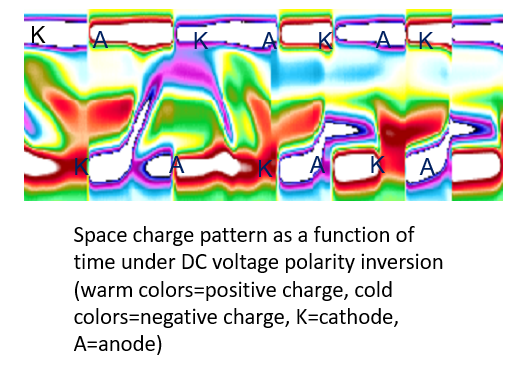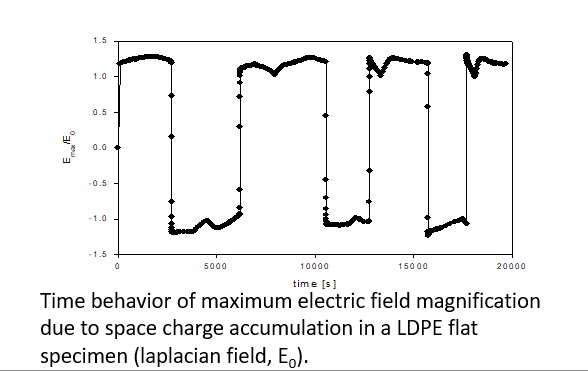 High-Voltage Conduction Current Measurment Cell
The high-voltage Conduction measurement cell is custom made for the purpose of measuring High-Field Conduction Current.
Samples are sputtered in Argon using the an in-house Cressington 108 Auto/SE Sputter Coater.
Range of testing temperatures – -30°C to 90°C
Maximum voltage: 40 kV

Range of specimen diameter – 30- 100 𝑚𝑚
High Voltage Power Supply
A highly precise power supply designed to maintain a residual ripple and stability within a range of < 0.001 percent (10 ppm). These specifications are tailored towards the measurement of PD, minimizing noise and creating a highly stable circuit.
Output Voltage – 0 to 60000 V DC adjustable
Output Current – 0- 10 mA adjustable
Input Voltage 110 V ± 10%, 47-63 Hz
Voltage Ripple ≤0,001% pp Unom ±50mV
Current Ripple ≤0,02% pp Inom ±500μA
Industrial Oven
The Industrial oven is the standard DC146 modified to have a customized high voltage feedthrough. Because of this, the oven is suitable for simulating the aging effects of electric field and temperature on insulating materials and systems.
Model – DC146 - 336
High Voltage feedthrough up to 50 kV
Temperature Range – 15°C (27°F) above ambient to 250°C (482°F)
Control Accuracy – +/- 1.0°C (+/- 1.8°F)
Resolution – +/- 0.1°C (+/- 0.1°F)
Interior Volume – 11 cu. ft.